Have this week's earnings gone to pay last week's expenses?
You have a cash flow problem.
Has your business reached heights of success that your foundations were not prepared for?
You have a systems and structures problem.
Do customers leave your salon and spa without making their next appointment?
You have a customer service problem.
Hang in there with me because over the next 10 minutes I'm going to help you understand three changes you can make within yourself and your business that will help you overcome your biggest obstacles.
Let's dive in.
I'VE BEEN WHERE YOU ARE.
It's been 30 years since I attained my cosmetology license. Nearly 20 of those have been spent helping hundreds within our industry become thriving, profitable people and have thriving, profitable businesses.
Over the past three decades a lot has changed within the industry - and yet, a lot hasn't. True, we've moved from mullets to crew cuts – and recently landed somewhere in between with the increasingly popular man bun.
We've traded Farrah Fawcett hair for pixie cuts and shades of red for shades of lavender and fuchsia.
But really, when you peel back the layers of esthetics and technique to stare deep into the heart of the business – we really haven't changed at all. We are still a customer centered, customer focused, and customer service industry.
THE FISH ROTS FROM THE HEAD
Not a glamorous analogy, I know. There's just too much truth in it to glam up. Never in all my years of coaching have I seen a business change without the owner changing first. Never.
The business changes from the top down, not the bottom up. If you're living in survival mode, then your employees are in survival mode and you can't grow when you're trying to survive.
Let's take money for example. If you have a cash flow problem, you've got to change the way you think about finances. Stop being scared that there's not going to be enough and start seeing the money that's already there. Twenty years ago, when I began a program with my coach, Sally, I couldn't see it – and barely believed it - either.
She showed me money I "left on the table" every day and changed my survival mindset to one of thriving.
DO YOU OWN A JOB?
On September 1, 1995 my husband was t-boned in a car accident and died instantly after someone had vandalized our town by taking down the stop signs at the intersections.
In that moment, my world stopped as panic set in.
I was alone, raising our two high-school children, operating my salon, and staring at a new business loan, mortgage and a massive 10-acre farm. I hadn't taken a paycheck in months and had no plans of how or when I would be able to.
With hopelessness setting in, I knew I needed tools beyond what were currently in my tool belt. I attended a conference on building a successful Salon and Spa business. During one of the seminars a presenter asked, "Do you own a job? Or, do you own a business? If you were unable to work your business for 6 weeks, would it survive? If the answer to that is, 'no', you own a job. You need a business."
Ask yourself that same question. If you find that you own a job, we need to talk. It's time to think like a business owner. Gain perspective using black and white, facts and logic. Your customers are not your friends. They are important and valuable – but you are not friends. Begin thinking from a stand point of owning a business, not a job. You can start by following the numbers and making the tough decisions. Get yourself out of technician mode – it's time to wear a different hat.
How long has it been since you raised your prices? Worried all your clients will leave you? You're thinking like a technician. Stop that!
Requiring all your employees to read the handbook but not enforcing and holding them accountable to the rules and regulations outlined? Knock it off!
Be an owner. Require the best and you'll get the best. Systems are put in place for your business to thrive. Fearlessly stand behind them.
Without making these changes, you'll always own a job – and we both know, you're much more capable than that.
ANTI-SOCIAL IN THE DAY OF SOCIAL MEDIA?
Do you wonder if your technicians would prefer to text your customers rather than talk to them? Would they prefer to tag them on social media rather than call them by name? It's not their fault you know. What beauty school has gained in education, it has lost in practicality. Most graduates are out of the industry in 5 years. Why do you think that is?
I'll tell you why - it's because we've forgotten the very basis of our industry. We are a customer centered, customer focused, and customer service industry. That means, as the business owner, every customer is your customer.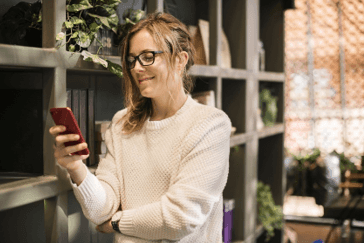 When I visit my clients' businesses to help train their employees we nearly always start with things that you may think are a given.1.Use your customers name, when appropriate, and often.
2.Let them talk about who they are and allow the conversation to flow from them. We are not a luxury industry, we are a look and feel good industry. The busy moms that come in get 90 minutes, once a month to themselves. If that time has been spent forcing her to hear all that is going on in the life of her technician, we have failed – no matter how great her hair looks or her massage was. We failed her.
3.Set up the next appointment and make the experience such a good one that she is happy to do so.
4.In large part due to the day to day of digital social connections, these business foundations and basics of life can often be lost without proper training.EXCELLENCE IS NEVER EASIESTListen, choosing (and it is a choice) excellence is never the easiest choice to make. But, the truth is, once you as an owner can stop being in survival mode – then your employees can stop being in survival mode. And once your employees are thriving, people will be attracted to what you have to offer. They will want to come back because they are getting more than they paid for. We can change the world through this wave – but it starts with you.
If I could take the liberty of applying what Ghandi said to your life today - be the change you want to see in your business.
If you are ready to be that change, click here. I'll see you on the other side.